Green WInged Macaw Cages
Some modifications must be made to accommodate the needs of the larger birds.
Our Green Winged Macaws are housed in free standing 6' x 6' x 12' chain link cages. These cages are made from panels that bolt together with special clamps. Cage is supported by six 5'' PVC legs buried 3' in the ground. The legs can later be filled with concrete. Construction tie down straps are used to secure the cage to the legs. The roof panel is attached directly to the cage frame.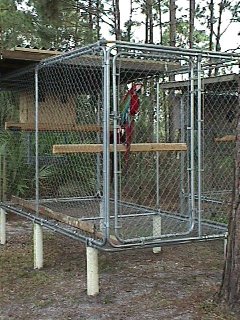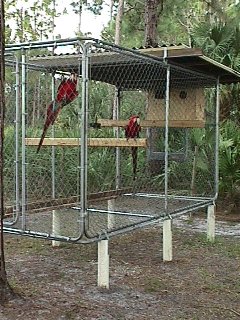 *Note: The 2x4x10's on the bottom of the cage in these photos are not a permanent fixture. They are only in the cage right now to support my wieght while I walk inside Pookie and Sassy's new cage to look for any hazzards.
Wire ties that hold the chain link material in place are replaced with stainless steel hose clamps. Our GW's destroyed the usual and heavy duty fencing ties. So far, even Bingo has not managed to get these off.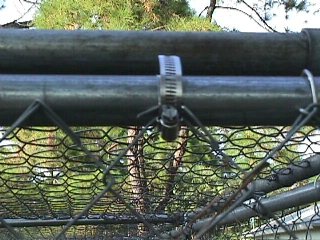 Special reinforcement is needed around the feeder station to prevent these larger beaks from breaking the wire and destroying the station. Bingo taught us this lesson too!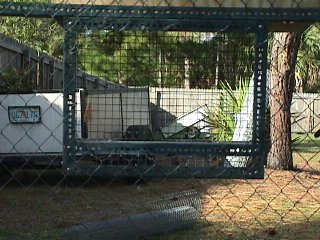 (view from inside cage)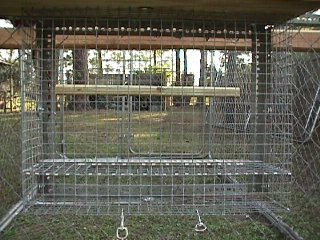 (view from outside of cage)
Extra support for the weight of that huge nest box is needed as well. Dexion steel works well to give the nestbox and feeder station extra support.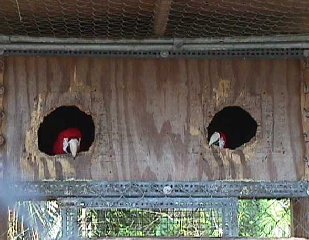 Perches are attached by using large galvanized fencing staples. You got it, Bingo again! At least the perch stays up a little longer this way.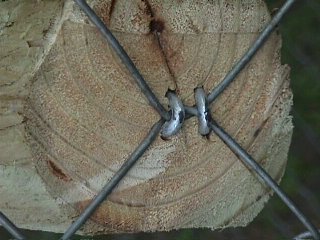 Free standing cage requires a special roof. We have found that the heavy duty PVC roofing panel works well, does not rust and have lasted over 9 years here. The roof is lighter weight, but when properly secured with tie down straps, have withstood a catagory 1 hurricane force wind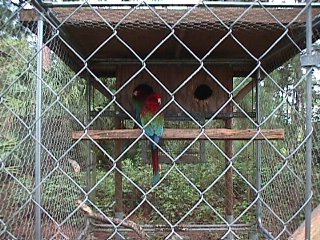 Roy and Pookie check out the new cage before we put it in place and add on the roof.