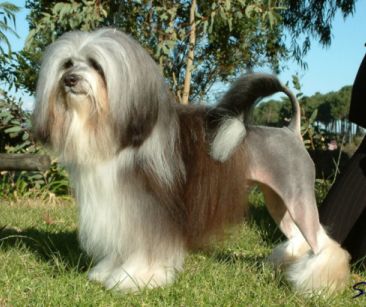 Photo by Sharon Waho Photography
SACHA was campaigned throughout her show career by
Jenny Sayers (Velette Maltese) of Perth, Western Australia
Silver, Cream & White Female
Whelped: 6th March, 2002
Pedigree
Multi BIS Aust. Ch.
Chinaroad
Flying Colours
Aust. Ch.
Rondaglen
Sir Galahad
Aust. Ch.
Lyoncourt Lancelot
Ch. Eastvalanna Classique
Ch. Saribi Taste Of Honey
Paceaway
Larapinta
Ch. Coxnco Hi Falutin
Ch. Coxnco Justa Luvkin
Aust. Ch.
Elguarda
Kandy Kisses
Aust. Ch.
Elguarda Lord Ov Thunder
Ch. Chismene Jumpn Jack Flash
Ch. Evelands Hevanly Angel
Aust. Ch.
Elguarda Magic Lady
Ch. Mijochi Brandy N Ice
Ch. Chismene Hot Gossip
R/U BIS Aust. Ch.
Elguarda
China Doll
Aust. Ch.
Mijochi
Brandy N Ice
Aust. Ch.
Chismene Wolfman Jack
Ch. Welchom Wiseguy
Keederri Holly Ander
Aust. Ch.
Saribi Tootsie
Ch. Tilcha Coolhand Luke
Ch. Hanrovia Rhum Bhunxius
Aust. Ch.
Chismene
Hot Gossip
Aust. Ch.
Welchom Wiseguy
Ch. Eastvalanna Classique
NZ & Aust CH Elkiro Elsa
Keederri
Holly Ander
Ch. Hanrovia Waca Bhutto
Ch. Shysu Feather Soft


Sacha wins BEST PUPPY IN GROUP (her third)
AT PERTH ROYAL SHOW 2002 as well as Bitch Challenge

Sacha wins BEST PUPPY IN SHOW
at the WATDSC TOY SPECIALTY CHAMP. SHOW 2002

Sacha wins R/U BEST EXHIBIT IN GROUP and PUPPY IN SHOW
at the C.A.W.A. All Breeds Champ. Show on December 31st at nine months of age.

Sacha wins BEST JUNIOR IN GROUP W.A.K.C. All Breeds Championship Show on March 21st.
Sacha goes Reserve Bitch Challenge, Best Junior In Show, and


RUNNER-UP BEST EXHIBIT IN SHOW


at the Lowchen Club of NSW Specialty Championship Show
in April, 2003, aged 13 months.

Sacha takes Reserve Challenge Bitch at Sydney Royal 2003!
Sacha has amassed 1 Best Baby Puppy In Group, 6 Best Minor Puppy In Group, 3 Best Puppy In Group (1 at Perth Royal), 4 Best Junior In Group, 2 Best Minor Puppy In Show, 2 Best Puppy In Show, 1 Best Junior in Show, 1 R/U BEST EXHIBIT IN SHOW (Specialty), and 1 R/U Best Exhibit In Group.