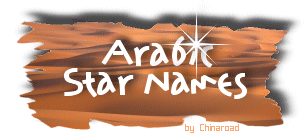 | Plants & Flowers | Colours | Minerals, Rocks & Precious Stones |
| Stars, Moons, Planets & Constellations | Butterflies | Winds, Storms & Cyclones |
| Oceans, Seas, Rivers, Lakes, Mountains & Deserts | Persian Nature Names | Muslim Nature Names |
| Solar Deities | Seasons Names | Nature Related Links | Names for Hair Colour | Master List |
Please, please email me if you find a broken link!

This is a list of traditional Arabic names for stars. In Western astronomy, most of the accepted star names are Arabic, a few are Greek and some are of unknown origin. Typically only bright stars have names.

History of Arabic Star Names
A few very old star names originated among people who lived in the Arabian Peninsula more than a thousand years ago, before the rise of Islam. However, many Arabic star names sprang up later in history, as translations of ancient Greek descriptions. The astronomer Claudius Ptolemy, who lived almost two thousand years ago in Alexandria, Egypt, collected ancient Greek descriptions of 1,025 stars in a book called The Great System of Astronomy, published around the year 150 A.D. Ptolemy's book was translated into Arabic in the 8th and 9th centuries and became famous under its shortened Arabic title, the Almagest. Many of the Arabic-language star descriptions in the Almagest came to be used widely as names for stars. In Europe, during the Middle Ages and Renaissance, many ancient star names were copied or translated incorrectly by various writers, some of whom did not know the Arabic language very well. As a result, the history of a star's name can be complicated.