Some Flea Products May be More Harmful Than Fleas
Ingredients may harm children and pets, says the National Resources Defense Council
Adopters want Rover to be a happy, itch-free dog, but neither they nor you want that tick-and-flea-free status to come at the expense of pets' or children's health. You should make your community aware of the potential dangers of some widely used pesticidal products that, even in commonly found dosages, can damage the nervous systems of humans and their animal friends.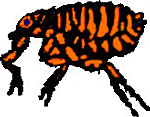 According to a report published by the National Resources Defense Council (NRDC) last November, a variety of flea and tick pesticides contain chemicals called "organophosphate insecticides," or OPs, which have been linked to brain damage, harm to the human endocrine system, and certain kinds of cancer. Major brands of flea and tick control products found to contain OPs include Alco, Americare, Beaphar, Double Duty, Ford's, Freedom Five, Happy Jack, Hartz, Hopkins, Kill-Ko, Protection, Rabon, Riverdale, Sergeant, Unicorn, Vet-Kem, Victory, and Zema. The Environmental Protection Agency has found that a child's exposure to the dangerous chemicals in these and other products can exceed safe levels by 50,000 percent—and that's just on the day the pet gets treated. And the products containing these chemicals aren't limited to the topical liquids—some of them can be found in flea collars.
While the NRDC notes that more studies on the effects of these chemicals need to be conducted, the organization recommends that consumers check their flea control products' lists of ingredients for any of the following seven OPs: chlorpyrifos, dichlorvos, phosmet, maled, tetrachlorvinphos, diazinon, and malathion. The NRDC also warns against products containing carbamates, which may be found under the chemical names carbaryl and propoxur. The council recommends seeking alternative means of flea and tick control; suggestions include using a flea comb, making sure pets stay clean, and using newer, safer, veterinarian-prescribed insecticides that contain imidacloprid (Advantage™) or fipronil (Frontline®, TopspotTM™).
Adopters and shelter staff can read the answers to frequently asked questions about the safety of flea and tick control products by visiting www.nrdc.org/health/effects/qpets.asp. The Web site also provides the full report, including a table with a comprehensive list of products containing harmful chemicals, at www.nrdc.org/health/effects/pets/pets.pdf.
Content provided by Iowa State University College of Veterinary Medicine for educational purposes only.
E-mail Us to report a broken link!