FAVOURITE AUSTRALIAN RECIPES
• Pavlova • Lamingtons • Coconut Ice • Date Bread & Butter Pudding •
• White Christmas • Mango Bread • Steamed Pudding with Golden Syrup •
• Zucchini Slice • Damper • Pikelets • Pumpkin Scones • Australian Shortbread •
• Apricot Bran Loaf • Aussie Quiche •

It is claimed that the Pavlova was created by chef Bert Sachse while he was working at Perth's Esplanade Hotel. He made it in honour of the hotel's most distinguished guest - the great prima ballerina, Anna Matveena Pavlova. It is now a national dish. 

This popular party dessert consists of a shell of meringue filled with whipped cream and fresh fruit.

Makes 8 servings 
3 egg whites
whipping cream 
pinch salt
Fruit 
1 cup sugar
Passion fruit pulp 
1 teaspoon vanilla
¼ teaspoon cream of tartar

Have egg whites at room temperature. Add vanilla, cream of tartar and pinch of salt. Beat to soft peaks. Gradually add sugar (approximately 1/8 cup at a time), beating until very stiff peaks form and sugar is dissolved - Meringue will be glossy. 

Cover baking sheet with plain brown (ungreased) paper. Using 9 inch round cake pan as a guide, draw circle on paper. Spread meringue over circle. Shape into shell with back of spoon, making bottom 1/2 inch thick and sides 1 3/4 inch high 
(don't worry if not exact). 

Place on middle rack in oven and bake at 275 F for 1 hour. Turn off heat and let dry in oven (door closed) at least two hours (or leave overnight). 

Before serving fill with whipped cream and top fruit of your choice, e.g. strawberries and kiwi fruit, pour passion fruit over. (Also good with sliced ripe mango, crushed pineapple, banana or fruit salad). 

Another downunder phenomena which is guaranteed to be in every cake shop and at most Ozzie or Kiwi parties. This dessert can be messy to make but it's worth it!

Cake:
125g butter 
2/3 cup sugar 
2 eggs 
2 cups self raising flour 
½ tsp salt 
1/3 cup milk (approx) 
½ tsp vanilla -30g butter


Icing:
1/2 cup boiling water (approx)
3 cups icing sugar 
1/3 cup coca 
1/2 tsp vanilla 
2 cups desiccated coconut

Grease, flour and paper line the base of a baking tray. Cream butter and sugar until light and fluffy. Add eggs one at a time, beating well after each addition. Sift flour and salt. Add alternatively with milk to mixture. Add vanilla. Blend well, but do not over-beat. Add a little more milk if necessary to form a soft dropping consistency. 

Bake at 350 F for 25 to 35 minutes, or until toothpick inserted in centre comes out clean. Turn out and cool on a cake rack. Cut into 30 squares. Dip each square in chocolate icing and roll in coconut. 

To make icing, melt butter in 1/4 cup boiling water. Sift icing sugar with cocoa and add liquid, mixing well. Add vanilla. The icing must be thin so that squares of cake can be readily coated. Add sufficient boiling water to form this consistency. Dip each square in icing then roll in coconut and leave to dry on a cake rack. 

2 Cups Sugar 
½ Cup Milk
6 oz Desiccated Coconut
1 pinch Cream of tartar
1 drop of Red Food Colouring

Dissolve the Sugar and the Milk in a saucepan on heat, add the cream of tartar and boil for 5 minutes, remove from heat and continue stirring until the mixture thickens and turns white. 

Add the coconut and turn out into a flat greased tray. Allow to cool and refrigerate. For a different affect save ¼ of the mixture and colour with the red food colouring and pour on top of the white ingredients already in the tray.

1 Cup Self Raising Flour 
2 Tablespoons Sugar
1 Tablespoon Melted Butter

½ Cup Milk
½ Teaspoon Bi-carb Soda 
1 Teaspoon Lemon Juice
1 Egg 
Pinch Salt

Sift the flour into a bowl, add the salt, soda, sugar and milk then beat at relatively low speed until well mixed. Now beat at higher speed then fold in the butter. Cook large spoonfuls of the mixture on hot grill or fry pan flipping once.

8 slices white bread
30g butter
160g pitted dates, chopped (about 1 cup)
4 eggs
55g (¼ cup) caster sugar
750ml (3 cups) milk
1 teaspoon vanilla essence
½ teaspoon ground nutmeg

Grease 5cm deep ovenproof dish (6 cup capacity). Remove crusts from bread. Butter bread, cut in half diagonally. Place half the bread, buttered side up, in prepared dish, sprinkle with dates, top with remaining bread. Whisk eggs, sugar, milk and essence in bowl. Pour milk mixture over bread, stand 10 minutes, sprinkle with nutmeg.
Place dish in baking dish, pour in enough boiling water to come halfway up side of dish, bake, uncovered, at 160°C for about 1¼ hours or until custard is set.

Serves 6.

Recipe best made just before serving.
Freeze: Not suitable.
Microwave: Not suitable.


Ingredients:
2 cups plain flour
1/2 cup water
1/2 cup milk
pinch salt

Directions:
Mix together into a slightly sticky dough. add a little more water or flour if needed.
Take a small amount, wrap it around a broomstick sized piece of wood and cook over the coals of an open fire
OR
wrap in foil and cook in the coals of a fire
OR
place on a lightly greased tin and cook in a hot oven.

When cooked, it should sound hollow if tapped.

Alternative: Damper Dog - put a small hot dog sausage on a skewer and wrap damper round it so it is completely covered and cook over an open fire .

Ingredients:
1 cup desiccated coconut
2 cups Rice bubbles
1 cup Icing sugar
1 cup milk powder
185 grams sultanas
185 grams diced dried apricots
60 grams chopped red glace cherries
250grams white vegetable shortening

Mix all ingredients (excluding Shortening) in large bowl
Carefully melt shortening on stove top (or in microwave)
Pour shortening into mix and stir until combined.
Press mixture into paper lined tray (about 1'/ 2.5 cm high) or spoon into paper cups
Refrigerate until set
Cut into squares if made in tray.


180g (6¼ oz) butter
1 cup fine sugar
4 eggs
170g (6 oz) can mango pulp
1/3 cup sour cream
2 cups self-raising flour
½ cup chopped dried mango

Lightly grease a 15cm x 25cm (6" x 9.8") loaf pan. Beat butter and sugar until light and fluffy. Beat in eggs, one at a time. Transfer mixture to large bowl, stir in remaining ingredients. Spread mixture into prepared pan, bake at 180°C (350°F) for 50 minutes, or until lightly brown and firm. Stand bread in pan for 5 minutes, turn onto wire rack to cool.

Golden Syrup is a medium-heavy syrup made commercially from cane sugar. It is thick, dark gold in colour, and very sweet. This recipe was a standard family dessert in the late 1940s, 1950s and 1960s. It is filling and warming in winter.

1 egg. 90gm butter.
3 tablespoons caster sugar - fine grained white sugar. 1/3 cup milk.
1 cup self-raising flour. 1 teaspoon vanilla.
3 tablespoons golden syrup.

Cream the butter and sugar. Beat in the egg. Fold in the flour alternately with milk and vanilla.
Put the golden syrup in the bottom of a 4 cup pudding basin or ordinary ceramic basin. Spoon the pudding mixture on to the top of the golden syrup. Cover with a lid or pudding cap, or use greaseproof paper or aluminium foil fastened with string or a rubber band.

Put the bowl in a large saucepan with about 10cm of water. The water should come halfway up the side of the pudding bowl. Simmer gently for about 1½ hours. Remove the water, let it rest for 5 minutes and then turn it out onto a dish. Serve with cream or icecream or, more traditionally, custard (hot in winter).

Ingredients:
375g Zucchini
1 cup self raising flour
Half a cup of oil
5 eggs
1 large onion
3 rashers of bacon
1 cup grated cheddar cheese
salt and pepper to taste

1. Grate unpeeled zucchini coarsely, finely chop onion and bacon.
2. Combine zucchini, onion, bacon, cheese, flour, oil and beaten eggs.
3. Season to taste with salt and pepper.
4. Pour into well greased pie dish and bake in moderate oven(180 degrees) for 30-40 minutes or until browned.

Hints:
Can be served hot or cold , but don't be over generous with the oil or it can end up a bit gluggy. Keeps well. Can be made a day ahead.

Pumpkin scones are called biscuits in the United States. They are associated with the state of Queensland. Australia's favourite pumpkin - the Queensland Blue - is readily available there. It is like a giant sized buttercup winter squash. The Queensland Blue has hard, bluish-green skin. Inside is firm, orange flesh. The more easily available butternut squash can be substituted in this recipe.

2 ozs softened butter
1 egg
¼ cup sugar
¼ cup milk
1 cup mashed, cooked pumpkin
2¾ cups self-raising flour

Preheat oven to 400° F. Lightly grease baking trays. Cream softened butter and sugar. Add egg and beat well. Add mashed pumpkin and milk. Fold in flour using fork, and mix well. Place on well-floured board or pastry sheet and gently press out to approximately 1/2" or 3/4" thickness. Cut into scone shapes using round cutter (2" diameter). Makes approximately 24.

Place on greased oven tray and brush tops with milk. Bake 10-15 minutes or until golden brown. Remove from oven, turn out onto clean dish towel, wrap and allow to cool slightly. Serve warm, split open and spread with butter.

A very easy to make recipe for ''Australian'' shortbread - they're great for a snack, to put in school lunches, or just to nibble on while you're surfing the 'Net !

1 Cup of Self Raising Flour
¾ of a Cup of sugar
¾ of a Cup of desiccated coconut
142g (5oz) melted butter
1 Cup of Corn Flakes, or equivalent Breakfast Cereal

Pour the melted butter over the dry ingredients and mix well. Press very firmly into a baking dish (not tray!) and cook until golden brown at about 176C (350F) Mark with a sharp knife, and cut into slices while still warm. Allow to cool.

To serve:
Store in an air-tight jar, if they last that long! Chocolate icing may be used if desired.

A delicious, healthy, "bran loaf" that's easy to make and delicious to eat. And it'll keep you regular, too!

1 Cup of AllBran
½ a Cup of chopped, dried apricots
1 and a ¼ Cups of milk
½ a Cup of sultanas
¾ of a Cup of sugar
1 and a ½ Cups of Self Raising Flour

Mix the apricots, AllBran, sultanas, sugar and milk in a bowl. Let stand for 2 hours or overnight. Grease a loaf tin and dust with fine breadcrumbs. Add the sifted flour to the bran mixture and mix well and place the mixture in the loaf tin. Bake at 175C (350F) for about an hour, or until a skewer comes out clean.

To serve:
Cut into slices and serve warm or cold. Hint: It's extra nice when spread with butter!

The most incredible Quiche!

3 beaten eggs
1 chopped onion
1½ Cups of milk
Bacon pieces, or chopped ham
1 Tablespoon of oil
2 to 3 Tablespoons of parsley

½ a Cup of Self Raising Flour
Chopped spinach or silver beet
1 Cup of grated cheese
Salt and pepper to taste
Optional: chopped tomato, spring onion or mushrooms

Put all the ingredients into a large plastic container with a tightly fitting lid and shake well for one minute. Grease a quiche dish well and pour in the mixture. Cook in the oven for approximately 45 minutes at 170C (338F), or until the quiche is firm when gently wobbled (oven temperatures may vary)

To serve:
This truly incredible quiche can be eaten hot or cold, preferably with a fresh green salad, crusty French bread, good company, and a nice bottle of red wine!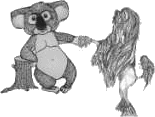 :: Home :: Site Menu :: Info on Australia :: Australian Shows :: Waltzing Matilda ::
:: Perth & Western Australia :: Australian Recipes :: Australian National Anthem ::