WALTZING MATILDA

Andrew Barton (Banjo) Patterson
(1864-1941)
was a Solicitor (Lawyer) by profession,
and lived and worked in Sydney, Australia.


This is the actual billabong at Dagworth Homestead
in outback Queensland where he penned the song.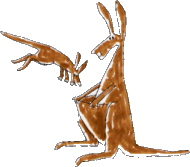 To read more about Waltzing Matilda and have some laughs,
check out this site here. It's very interesting.
The history behind Waltzing Matilda is extensive, click here
to visit the waltzingmatilda.com site.
Other poetry by Banjo Patterson